South Florida's exciting, international city is much more than the gateway to Latin America. It's one of the world's most popular vacation destinations. With its world-renowned beaches, unrivaled nightlife, unique culinary experiences and Latin flavor, this is one place you'll want to check out. Before departing from Miami, enjoy a tour that will highlight this exciting city.



The One Thing You Don't Want to Miss:

Miami Beach is one of Miami's most popular attractions. There, you'll see supermodels and celebrities side by side with octogenarians in pastel plaid. This diversity is one of the main attractions of this area. But the wide, sandy beaches and clean, warm water don't hurt.

Other Fun Things to Do:

• Drive through Miami, discovering its rich history, then head out to the Everglades, the only subtropical preserve in North America. As you approach the park, a guide will tell you about the many birds and foliage found in the River of Grass. Then explore the Glades on a 40-minute airboat ride and see an Indian village, alligator wrestling and even a wildlife show.

• Take a colorful tour to the world-famous Art-Deco District of South Beach. Then head to Brickell Avenue, the financial heart of Miami. Your tour takes you to the bohemian village of Coconut Grove and its lush vegetation. Finally, a drive through Coral Gables will take you past the Biltmore Hotel, the Venetian Pool and Miracle Mile.

• Try snorkeling or scuba diving off Key Biscayne in John Pennecamp Coral Reef State Park, a protected 78 sq. mile (202 sq. km) section of the Florida Reef.

• Get a Taste of Local Flavor: Miami is famous for its seasonal stone crabs. You eat only the claws. They take just one from each crab leaving it to grow another. Be forewarned: the shells are extremely hard to crack, but the meat is sweet and delicious.
More Information:

For more information on Miami and the Beaches visit the official website of the Greater Miami Visitors Bureau: www.miamiandbeaches.com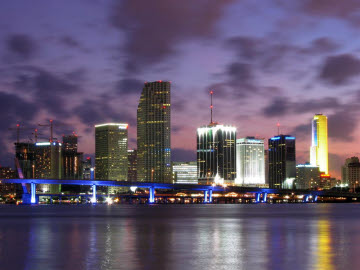 Downtown Miami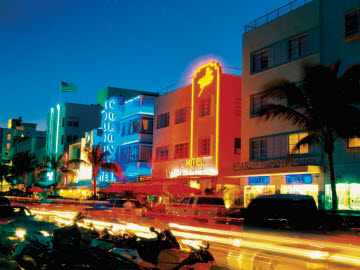 Ocean Drive, Miami Beach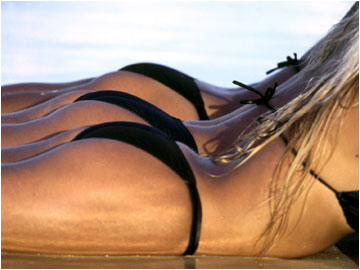 The meaning of South Beach