Day 1: Miami, FL
We will be sailing out of Miami in the late afternoon. While you wait for departure, grab a drink and explore the ships many amenities. Relax in one of the pools and enjoy dinner at the à la carte restaurant. The live shows start in the early evening and will extend late into the night while we set course for the beautiful Bahamas! And don't forget to check out the Meet & Greets!
Day 2: Day at Sea
A whole day spent on the Open Seas while we sail to our Port of Call: Nassau, Bahamas! As the live shows continue, grab a drink at one of the bars that never close(!), take a dip in the pool or lounge in the hot tubs. If you need a break check out the Casino, Rock Climbing Wall and on board Fitness Center amongst tons of other things to do!
Day 3: Nassau, Bahamas
We will arrive at our Port of Call very early in the morning and leave later that evening, giving you lots of time to explore! Visit the infamous Atlantis on Paradise Island, discover the pirate in you at the Pirates of Nassau Museum or check out Blackbeard's Cay and Predator Lagoon. Check out the Nassau page for more info. The live performances will continue after we set out to sea once again in the evening.
Day 4: Day at Sea
Not only will there of course be more live shows to see, check out some of the workshops and clinics with the extremely talented musicians on board, and stop by the Moonlight Dining Room for more Meet & Greets! Oh, and don't forget to watch (or take part in) the Belly Flop Contest!
Day 5: Miami FL
Unfortunately all things have to end and in the morning when you walk off the ship in Miami and come back to reality, you might even feel like you need a vacation from this vacation!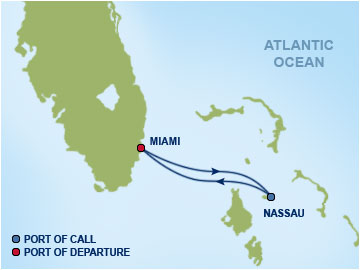 The Route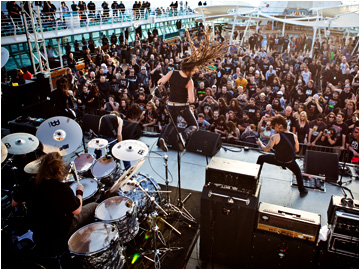 Tons Of Live Shows On Three Stages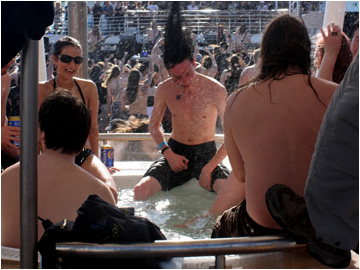 Headbanging In The Hot-Tub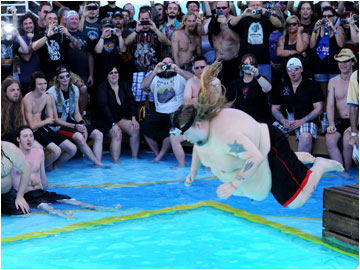 Win The Belly Flop Contest!